Isn't it amazing how just a little sun light can life your spirits and I have suddenly spent more time looking at how the plants and trees have come in to their own; their colours, shape and presence. It is the shame that the grey in a rainy day, really does mute the colours of nature or alternatively it could be me ... head down, walking from one location to another, failing to notice anything other than the rain.
Well to keep up with the sun filled days we are having, the theme over at The Pencil Case is "Summer Colours" and I have decided to go with a summer picnic theme with lots of floating bunting. The challenge is sponsored by Molly Harrision Art and I was given the Little Birthday Girl image to colour up ... of course using my Lyra Rembrandt Polycolor pencils.
Colours:
Dress: Light Blue, Sky Blue, Prussian Blue, Violet, Light Violet & Blu

e Violet
Hair: Dark Sepia, Raw Umber, Black, Van Dyck Brown
Skin: Burnt Ochre, Light Flesh, Med Flesh &

C

innamon
Present: Light Carmine, Light Orange & orange yellow
Grass: Juniper Green, Cedar Green & Black
Flowers: Light Carmine & Orange Yellow
I originally had this plan as to how I would frame my image. Well, let's just say it didn't go to plan and it was touch and go whether I might have to recolour another image. Luckily sanity quickly came back and I managed to cut the image out using circle dies.
The bunting is a new die set from Tonic Studios and is so quick and effective. I wanted to make it look at is the bunting is floating in a soft summer breeze and have stuck the lower mat at the top but used 3D foam in the middle to give lift. The paper part was stuck only on the back of the original mat frame and in real life, looks very effective and tactile.
All the papers and sentiment are from Polka Doodles Twiggy & Toots collection as it has a wonderful selection of paperwork themed papers, which work perfectly and help me convert the idea in my head to a tangible project.
It's an outside sort of day today being kick started by a walk in the fields with the dog. Have a great day whatever you chose to do,
Lou
x x x
Products and links: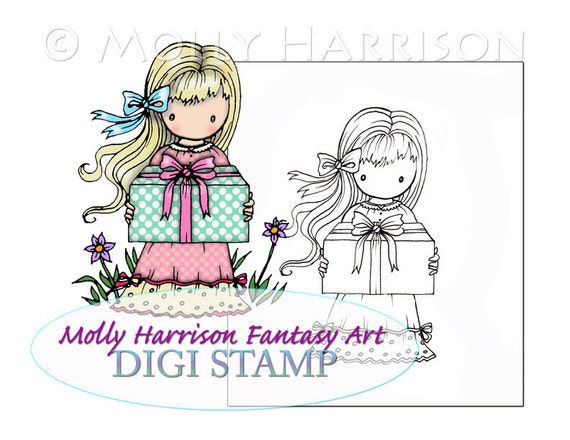 Challenges:
A Beautiful Mess - anything goes
Chocolate,
coffee & cards - circles and squares
C

rafty Catz - female/girls only
Simply Create - ladies only
Simply Papercraft - anything goes
Crafting with attitude - anything goes
Little Miss Muffet - anything goes
Seize the birthday - birthday with colouring