Well I'm back with another 'Throwback Tuesday' post where I share a project that I have forgotten to blog about (eeekkk) and this Tuesday I am sharing a project made using the Swirled Lace Decorative Edge dies.
I have taken the main die and cut it directly in to a piece of Craft perfect Pistachio card, mounting this slightly offset, on to my card blank. The die leaves a beautiful, embossed and de-bossed design in your card, creating a wonderful focal point.
Next using the 'Hooray banner & stamp set' , I began by die cutting a banner from Craft Perfect Ivory White, stamping the sentiment with Nuvo Hybrid Diamond ink in Rich Rosewood, placing latter in to the centre of my card.
Using an older die set, 'Beautiful Blooms - Apple Blossom', I created lots of different sized & layered flowers - from Craft Perfect Ivory White card - placing these down one side of my card. To bring in the green, I die cut a few leaves using the Autumn Leaves, September Harvest dies, placing these amongst the flowers.
Next, because I could ( 😃 ) I have added some dry flowers in a dusky pink, which happened to match perfectly with the Antique Rose Nuvo Crystal Drops.
Now you're not going to believe this but whilst on YouTube searching how to change the bulb in my cars headlight, (as you do), I came across Hochanda's channel. Well ... blow me down, there are oodles & oodles of videos on there for every show imaginable! This then sent me off on a tangent and I had to have a watch of one or two (dozen 😊😉) and managed to find one of the launch shows for the Decorative Edge Dies.
YouTube inspiration can be found here - https://www.youtube.com/watch?v=HngjPyVT6Ws. The relevant show begins at time stamp 5:16:16 and you can catch Jodie demoing my card at time stamp 5:37:46.
Thanks for popping by and catching you soon,
Lou
x x x
Product used and links: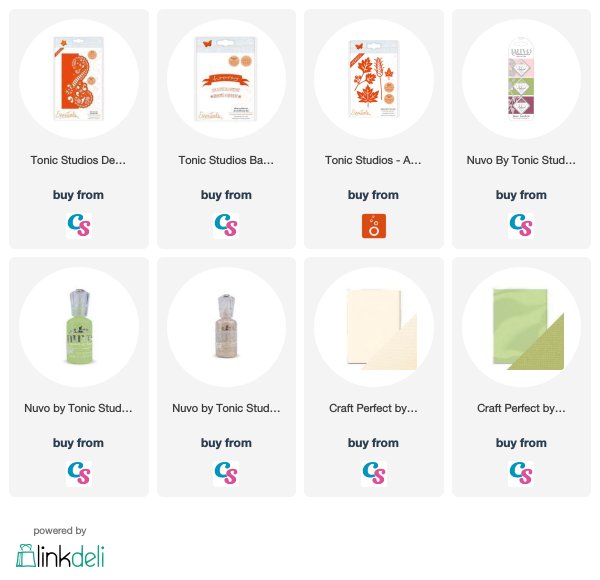 I would like to enter my card in to the following challenges: