Good morning everyone. Oh my oh my, the weekend here was HOT 💦 HOT 😰 HOT! I'm not bemoaning the sunshine, just need it a wee bit cooler. I'm just not built for these 30+ temperatures lol.
For the whole of this week, I've a "SPOOKTACULAR" event running featuring lots of Polkadoodles stamps & papers with a distinctly Halloween theme.
The event begins with my
"Up Close & Personal"
look at a selection of the Polkadoodles Halloween goodies you can use on your Halloween projects and you can check out my YouTube video
HERE
or click on photo below
....
Over the coming week, I will be sharing lots of YouTube tutorials of all the different projects featured in my
"Up Close & Personal" video
, with step by step instructions, so would be chuffed to bits if you could pop back each day to see the project featured.
Also a selfish plug here ... I'd love to increase my subscriber numbers on YouTube which means I can then access more of their features, which in turn helps me produce and share better video content. I'd be really grateful if you could subscribe to my growing channel as I have lots of videos waiting to be released in the next days, weeks & months. Plug over ... but seriously, thank you. You can get to my YouTube channel
HERE
.
"UP CLOSE & PERSONAL" PROJECT
To "kick start" my event, I am sharing a quick project which has been made using all the wonderful accessory stamps that Nikky (Polkadoodles owner & designer), always adds to each of her clear stamp sets. I've used the following stamp sets to create my card ...
The images have been stamped to create a border but I did think it would be cool to add a Halloween Spider to the mix. His bow tie made me feel as if he was a "mad scientist" ...! All have been coloured with GraphIt Markers; bless them, they were all of a quiver as it's been an age since they were last out, colouring along with me!
I have stamped the sentiment underneath - which I think is perfect for this card design - and then to link the sentiment to the Halloween images above, I've stamped a spiders web with it's 3-eyed spider owner ...!
POLKADOODLES & HALLOWEEN
If stamping isn't "your thing", Polkadoodles has oodles & oodles of Halloween digital/downloadable products from b&w images, coloured images, sentiments, paper packs, embellishments ... if fact, too many to list here, as knowing me, I'm bound to forget something. You can check out the full digital/downloadable range
HERE
GIVEAWAY
I will be giving away a prize of one of the Polkadoodles featured products used this week, each day on my blog. Today's giveaway prize is a wonderful selection of 6"x 6" Halloween papers and the prize will go to one randomly chosen winner ...
Leave your name in the InLinkz list found at the bottom of this post, to be entered and the giveaway runs until 26th September 2019. Also this giveaway is open WORLDWIDE.
SNEAK PEEK ...
Here's a little look at tomorrows project which I can't wait to share with you all.
Until tomorrow, I hope you have a great day and thanks for popping by,
Lou
x x x
SUPPLIES
I'm listing the products I used below to create my project. Click on the shop link/logo or photo to go directly to the product. Where available I use compensated affiliate links which means if you make a purchase I receive a small commission at no extra cost to you. Thank you so much for your support!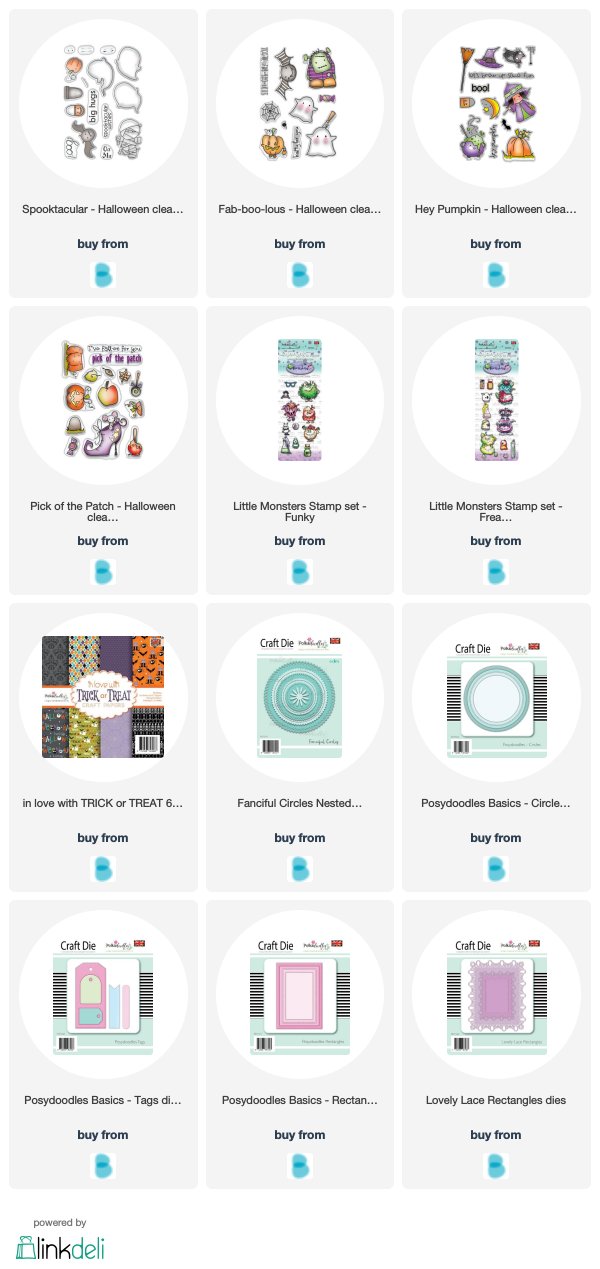 GIVEAWAY LINK-UP